American Rhododendron Society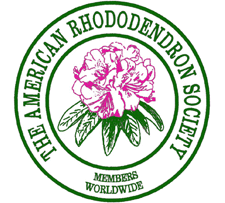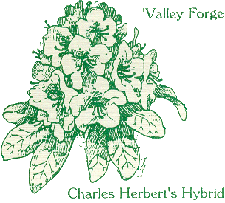 Rhododendrons in Pennís Woods
Eastern Regional
Fall 2009 Conference
October 22-25, 2009
For password protected committee access click here
Theme: Rhododendrons in Pennís Woods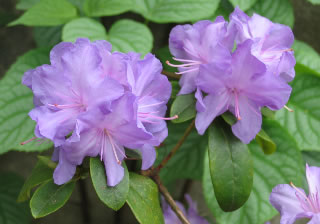 Rcv. Rhein's Luna
A weekend in Penn's Woods, otherwise known as Pennsylvania, will give you a sense of the abundance of rhododendrons in this area, both grown here and hybridized here.
We welcome you to the Eastern Regional ARS Conference from October 23 to 25, 2009, at The Inn at Chester Springs in Lionville, Pennsylvania, hosted by the District 8 chapters of Greater Philadelphia, Pine Barrens, Valley Forge, Susquehanna Valley and Lehigh Valley.
Many of the hybridizers' names will be familiar to you, such as Gable, Delp, Pride, Doppel, Ahern, Rhein, Minahan, and Wister. Even Charles Dexter sent plants to friends in this area to be grown on such as those at Tyler Arboretum grown by John Wister. Pride and Delp hybridized in areas where the winter low temperature was minus 20 degrees. Others have hybridized in the southern part of Pennsylvania where winter lows range from 0 degrees to +10 degrees,
For your pleasure, we will have speakers and a plant sale of Pennsylvania rhododendrons, plus other activities. The speakers will be well versed in the local plants, and will introduce you to many not known to you.
Adam Levine and Robert Cardillo will present on the Great Gardens of the Philadelphia Region about which they have written an acclaimed book. Robert Herald, who has been working on restoring the Wister collection at Tyler Arboretum, will talk about the Wister-Tyler heritage. For garden historians, Joel Fry will speak about The John Bartram Garden and the legacy of the Bartram family's founding of America's first arboretum, Tom Ahern, a local hybridizer, will tell us about hybrids and hybridizers in the Pennsylvania Dutch Country, and will show pictures of many of his blooms. Sally and John Perkins, from the Massachusetts chapter, will present a lively show of companion plants for the woodland garden.
The banquet speaker on Saturday will be Don Hyatt, well known to most of us. His topic is The Legacy of Joe Gable, which will give us a background of the parentage and subsequent generations of many of the rhododendrons that we know and love.
We will end our conference on Sunday with a Hybridizers Roundtable for those who want to learn more about the new plants we may see in the future.
For some members, the plant sale represents the single most exciting attraction of a conference and we are striving to bring you a great variety and quantity of plants representing Penn's Woods. The conference committee has been busy striking cuttings from members' gardens and growing them on. Companion plants will also be offered.
You will find the hotel to be conveniently located near the Pennsylvania turnpike and within 30 minutes of King of Prussia, Valley Forge National Park, Longwood Gardens, Winterthur, Tyler Arboretum, Chanticleer, Jenkins Arboretum, Mt Cuba, Bartram's Garden and the Pennsylvania Dutch Country should you choose to include other attractions and gardens in your trip. Philadelphia is about an hour drive, but a commuter train is ten minutes away from the Inn.
The plant sale represents the single most exciting attraction for some members, and we strive to bring you a great variety and quantity of plants. The committee has already been busy striking cuttings from members' gardens all over the eastern region of Pennsylvania.

There will also be companion plants brought in by members.
Hosted by District 8:

Greater Philadelphia Chapter
Lehigh Valley Chapter
Pine Barrens Chapter
Susquehana Valley Chapter
Valley Forge Chapter
---
Webmaster: