American Rhododendron Society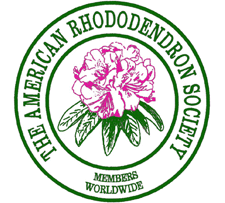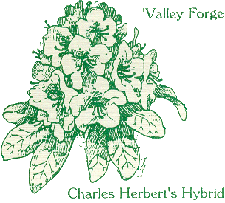 Rhododendrons in Penn's Woods
Eastern Regional
Fall 2009 Conference
October 22-25, 2009
Committee Restricted Access Area
---
Speaker List
Tom Ahern - Hybrids and Hybridizers of the Lehigh Valley
Joel Fry - The Legacy of William Bartram (1739-1823) Pennsylvania Plant Explorer
Robert Herald - The Legacy of Dr. John C. Wister (1887-1982) Pennsylvania Horticulturist
Don Hyatt - The Legacy of Joseph B. Gable (1886-1972) Pennsylvania Hybridizer
Adam Levine & Robert Cardillo - World Famous Gardens of the Delaware Valley
John & Sally Perkins - ???
---
Speaker Biographies
Tom Ahern— Bethlehem, Pennsylvania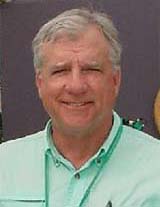 Tom Ahern grew up on the eastern fringe of Pennsylvania Dutch country, just north of Allentown, PA, where he attended a one room schoolhouse for the elementary grades. After high school, he tried business school for a short time and then joined the service and became a paratrooper. After discharge, he found joy in woodworking and started making furniture for both his own use and for sale. He also started a "real job" at Bethlehem Steel.
After some encouragement from his parents, who loved vacationing on the eastern shore of Maryland, Tom started carving miniature decoys. For a few years, he gave these birds to family members as gifts and then one Christmas season, he needed some extra cash, so he took a few birds to work. He sold everything that he had available and took orders for more. This success planted a seed in his mind. He hoped that someday he would be able to support himself by carving full time. In 1982, he left his fifteen year job at Bethlehem Steel and went into carving full time. Tom is still doing shows from the northeast down into Florida. The largest carving show that he has been doing for the past few years is the Waterfowl Festival in Easton Maryland.
When Tom and Barbara Ahern purchased their 1.4-acre property in 1984, they found that even with the removal of small trees and undergrowth it was too shady for the cultivation of roses which had been their former interest. They set about clearing the overgrown vine/brush areas and replacing the forest underlayer with deciduous azaleas. Tom was invited to join the newly formed ARS Lehigh Valley Chapter, of which he subsequently became president, and thanks to generous members and newly found plant sources, he started putting in rhododendrons by the dozens. He began hybridizing in 1989 with plants from his own yard and subsequently collected pollen on a trip to Washington State. His pollen sources are not limited to the West Coast, but come from whatever donors may carry the flower color and leaf-form that he strives for.
Like a number of other hybridizers on the East Coast, Tom is concentrating on hardy yellows and oranges, where great strides have been made in the past few years. In achieving striking underleaf color, he has introduced 'Rosevallon' to hardier parents, and he has lately been working on creating hardy plants that resemble tender species unable to survive in sections of the East Coast. Tom has always been generous in sharing his seeds and seedlings on the road to perfection, and some of his newly registered plants will be available at the convention plant sale.
Joel Fry–Bartram's Garden
Joel Fry is the curator of Bartram's Garden in Philadelphia. From this 102-acre farm near Philadelphia, which John Bartram purchased in 1728, he traveled north to Lake Ontario, south to Florida, and west to the Ohio River in search of plants and natural history specimens for his own botanic garden and for collectors at home and abroad. Bartram and his son William are credited with identifying and introducing into cultivation more than 200 of our native plants.
John Bartram and his son William Bartram were unique figures in 18th century America, homegrown natural scientists and practical gardeners. Ultimately four generations of Bartrams lived and worked at the family garden from 1728-1850, and made their livelihood by the exchange of plants and natural history specimens with the world. Bartram¹s Garden became a gathering point for scientists, artists, gardeners, and the curious.
Joel Fry is an archaeologist with a B.A. and M.A. in anthropology and archaeology from the University of Pennsylvania. His involvement with Bartram's Garden began in 1980 when, as a student, he participated in a research product at the Garden. He has worked there ever since, becoming curator in 1993. He continues to conduct research and lecture on botanical history and development as it relates to the Bartram's and their Garden.
Robert Herald–Tyler Arboretum
Tyler Arboretum has embarked on a multi-million dollar restoration program for the renowned Wister Rhododendron Garden. In 2004, Tyler began an initiative to improve the Wister Rhododendron Collection beginning with a complete assessment of the plants making up this Collection. Robert Herald, a noted expert in the field, was retained to conduct such an evaluation. In his work, which took several months to complete, Herald based his analysis on several factors: historical significance, unusual or rare cultivars not available in other public collections, plant health, aesthetic and display contributions, and educational value.
"Nurtured within Tyler Arboretum is a hidden treasure. It is a legacy so special and unique that its existence alone places it as a nationally and locally important resource. This horticultural jewel is the Wister Rhododendron Collection. Growing pleasantly beneath the shade of second-growth tulip trees, oaks, ashes, and maples, the collection represents the culmination of one of this country's great rhododendron breeders, Dr. John Casper Wister." (Robert Herald, September 6, 2005)
Herald reports that "there exists no other public collection in the northeastern United States that can compare in horticultural diversity, condition, and importance" than Tyler 's Wister Rhododendron Collection.
Don Hyatt–Northern Virginia

Donald W. Hyatt, or Don as most of his friends know him, earned his Masters degree in Computer Science from Virginia Tech and spent most of his 33-year professional career in Fairfax County Public Schools as a Computer Science teacher.
Having started his first garden at the family home in Northern Virginia when he was only three, Don claims to be a "plant person" at heart rather than a computer scientist. The spectacular private garden he developed over 50 years has been on many garden tours. Don's Bachelors degree was in Horticulture with a double major in Biochemistry from Virginia Tech and he has always been active in the plant world despite his career as a computer science teacher.
Don is recognized as a national authority on azaleas and rhododendrons and has served on the national boards of both the Azalea Society of America (ASA) and the American Rhododendron Society (ARS). He received the Bronze Medal from the Potomac Valley Chapter of the ARS in 1978 and was awarded the prestigious Silver Medal from the national organization in 2002, citing his life-long passion for the genus Rhododendron and his many contributions to the ARS and its goals.
Don's artistic talents were encouraged by both his mother and grandfather who were commercial artists. For nearly 40 years, he has been painting botanical illustrations in watercolor. Now in retirement, Don wants to work more with his artwork and do a bit less digging in the dirt. Botanical illustration in watercolor has been a passion that he put on hold for much of his teaching career.
Don is a frequent speaker at area garden clubs and gives talks on rhododendrons, native azaleas, and general landscaping.
Adam Levine and Rob Cardillo
A Guide to the Great Gardens of the Philadelphia Region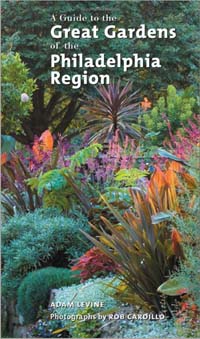 Adam Levine wrote the text and Rob Cardillo provided the photographs in their book, A Guide to the Great Gardens of the Philadelphia Region.
Jane G. Pepper, President, Pennsylvania Horticultural Society wrote, "I am thrilled to finally see such a thorough and useful guide to the gardens of the Delaware Valley. A Guide to the Great Gardens of the Philadelphia Region will make a wonderful addition to any garden lover's library. Adam Levine and Rob Cardillo are the perfect guides-bringing these gardens to life in word and image. Their knowledge about the gardens in our area makes this an invaluable book indeed."
Adam Levine is an award-winning garden writer whose work has appeared in many regional and national magazines. He is also co-author of The Passion for Gardening and The Philadelphia Flower Show. He lives and gardens in Media, Pa.
Rob Cardillo is a Philadelphia-based professional garden photographer. Formerly the Director of Photography at Organic Gardening magazine, his work now appears in Garden Design, Horticulture, Better Homes and Garden, and numerous other magazines. He has authored two books and was the photographer for Flowers, White House Style, HGTV Landscape Makeovers, and The Perennial Gardener's Design Primer.
John & Sally Perkins –Canobie Lake in Salem, NH
Sally and John Perkins, are ARS Bronze Medal recipients and long-time members of the ARS Massachusetts Chapter. They developed the Massachusetts Chapter web site over many years and it is now a valuable resource of images and information. You will enjoy visiting it at www.rosebay.org.
Sally and John live on Canobie Lake in Salem, NH, an area with a unique microclimate, that allows them to grow a wider diversity of rhododendrons then one might think possible. Sally and John evaluate plants in a number of categories -foliage, habit, bloom time, species, hybridizer, companion, etc -based on their experience growing in Salem, NH and observing these plants in member gardens throughout New England. Behind each favorite is a story about their experiences with rhododendrons and companion plants.
Sally Perkins is a physical therapist with a BS in botany from the University of Maryland and a Masters in Cell Biology from the University of Illinois. She is currently the Alternate District 6 Director. John Perkins is a software architect with a BS from Purdue University and a Master's in Theoretical Mathematics from the University of Illinois. He is currently the Co-chairman of the chapter's Plants-4-Members program. Together they hybridize, grow on seed to flowering size and encourage others to do the same.
On the Yahoo! Azalea discussion group, John Perkins made the statement,
"If I was going to look for interesting native deciduous azaleas in a garden setting I would look in the greater Philly area. Eastern native azaleas grow well there and there are many fine collections of plant material in this area.
This area may well be the best area in the east to grow plants."
---
Speaker Files
PDF file of Gable Hybrids and Gable Progeny (30 pages) for Don Hyatt (Homer Salley's CD) from Steve Henning
Excel file of Gable Hybrids and Gable Progeny (228 kB) for Don Hyatt (Homer Salley's CD) from Steve Henning
---
Plant Sale Files
Excel file of Cuttings for ARS Conference October 2009 as of September 8 2008 from Karel Bernady
---
Miscellaneous Files
Examples of presentations of Plant Sale Info:
Philadelphia 2008 Plants for Members Available Plants Sept 7 for Printing (Excel File)
Philadelphia 2008 Plants for Members Available Plants Sept 7 Data (Excel File)
Valley Forge 2008 Plant Sale Website (with photos)
Valley Forge 2008 Plant Sale Catalog (PDF File)
---
Webmaster: